kid copy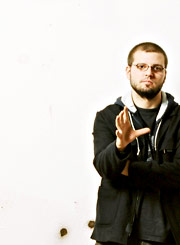 kid copy (a.k.a. Thomas Wieser a.k.a downjonez a.k.a. George Ambush a.k.a Ill Clinton a.k.a Kurt Cocaine a.k.a Paul fun Dick a.k.a Jennifa LoTec a.k.a ....) was a bored kid from the rural areas of the lowest of lower austria. He began djing in 1997 as part of the infamous swound imp/paris visite DJ and art-collective, playing hip hop, techno, house, electro and jungle/d&b with rather simple entertaining approach.
Together with multiinstrumentalist/soundengineer/programmer Philipp Mold (later known as folklabor) he teamed up as cirque de delay, making music that now maybe would be categorized as kind of weird weird folk. Later he joined forces with local hip hop activists, finally really learning how to use and abuse the equipment properly, and became part of the funkizid/fleischmöbel collective.
Stylistically focusing on more advanced and specialised niche-musics like abstract hip hop, nu dub, breakcore, indietronics, idm and all forms of experimental electronica, he mastered the art of mashing up styles that never were meant to fit together. Unfortunately being the kind of guy who`s getting bored extremely fast by things he already knows, he nowadays doesn`t stick to any genre boundaries at all, and considers the (not only) musical output of the whole world as source to borrow, steal, rob and recontextualize in his own "semi abstract entertainment"-style. For the last few years he was also working on his production skills, trying to make music in which he can combine all his influences, that move between the extreme poles of pure, simple hedonistic entertainment and totally coded artsy stuff, mainstream and underground, pop and noise, dance and heavy listening. His homebase, where you have the best chance to hear him dj is the Jazzkeller, a moisty hole, deep inside the guts of the lower austrian city of Krems, and a place where weird things grow.
Past interventions include venues like wuk, schikaneder, arena, and several guerilla gigs at house-parties, rural discos, in the woods and on the beach. Exact dates and circumstances can`t be reconstructed because of punk attitude, alcohol abuse and data/memory loss.
Releases & Projects
Sound
V.A. - SPEAK. FEED. BLEED. (Digipack CD - kid003), 2007
Funkizid - Spooky Interaction at a Distance (Mix CDR), 2005
V.A. – Fleischmöbel 003 (CDR), 2003
V.A. – Jason Ditch (CDR), 2001

Mix
GlimpseOffKid003 - preview Mix of kid003 * 03/05/07
Spooky Interaction at a Distance (Funkizid) * 28/03/05
History
cirque de delay
Gigs & Dates
uncomplete and abandoned list now, sorry back up in some weeks...

Mainframe / Arena - Wien (A) * 18/05/09
do.phunk / Ragnar Hof - Wien (A) * 09/05/09
No Name Party / Jazzkeller - Krems (A) * 11/04/09