News
Aas der Basis online...
_ 2008-07-08 15:26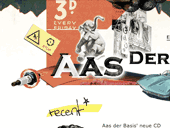 Wether you got the joke or not about Aas der Basis... Austria's truly worst/best rapper got his page online. You'll find is latest album, all kind of news, dates and a lot more on his page. It has a pretty nice design so give it a click. Find the website under...
www.aasderbasis.at
kid003 and kid004 DoubleRelease
_ 2007-11-18 15:16
Shower with polarisedkids releases today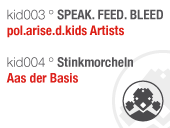 It's actually done and we're going to celebrate it. On december first the compilation "
speak.feed.bleed.
" (kid003) will be released with twelve tracks from artists around the pol.arise.d.kids network. Tracks from a variety of genres are collected together on this sound carrier to show different aims in music production. Alongside kid003 
Aas der Basis
 releases his EP "
Stinkmorcheln
" (kid004) which features distinctive hiphop experiments far away from common trails.
Due to these releases the pol.arise.d.kids are gathering for a release party on december first at the Jazzkeller in Krems. 
Aas der Basis, Nikolas Darius
 and 
Lost on Arrival
 will be performing live together with hardened vj's and dj's from the network. We hope to see you !
A glimpse of kid003
_ 2007-05-03 15:13
A mix of the upcoming compilation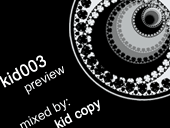 The compilation that has been into production for the last months, cut out of the flesh of the pol.arise.d.kids, is going to be finished and pressed down to cd-material soon. Some people of the community mean, it'll be named "
speak.feed.bleed.
". Others say it will be labeled "Grandmother Tschurtschenko". Well who knows, who counts. The most important is that we present you a high quality mix of our upcoming release by kid copy. You'd better hit that play button below, because he did a very good job.
A glimpse of kid003 - Tracks mixed by kid copy
pk takes part in the Netlabelnights
_ 2007-03-26 15:07
*traik & sitosun are up for visuals in Graz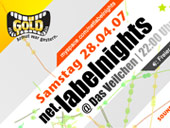 Simon/Off
of the winterstrand crew organises the Netlabelnights for the Forum Festival "GOLD" on April 27th and 28th at the Veilchen in Graz. His guests on the 27th will be Bobby Baby (Corpid) and Microtonner (Laridae). The following day Lackluster (SLSK/Monotonik) from Finnland and Firnwald (Laridae) from Germany are going to play a live set. DJ-Action is provided by Zvonko (Disk0404) and Simon himself.
*traik
and
sitosun
of polarisedkids and ichiban are set in to support with visuals.
http://www.myspace.com/netlabelnights 
pkids at DONAUFESTIVAL
_ 2006-04-14 15:06
Triangular directions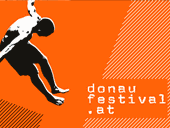 On April, 30th the 
Funkizid Soundsystem
, 
Schwäm
 & 
Hans Boskoop
 and visualist 
*traik
 will support 
Subtitle
, 
Bigg Jus
and 
Existereo
 at the Jazzkeller / Krems.
Update:
 Schwäm & Hans made an infamous Show. Sadly, Bigg Jus couldn't make his way to Krems. But the evening was fine and we had a lot of fun.
groovelounge & pkids
_ 2006-03-21 14:29
A nearly full labelfeature coming up!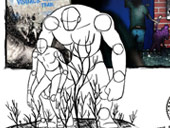 A delegation of polarisedkids is going to play on the 29th of April at the 
Groovelounge
 in St. Leonhard - Steinhaus (A). The 
Funkizid Soundsystem
, 
Surehans
, 
Parkwächter Harlekin
, 
Laminat
, 
NOiRM
 and 
*traik
 have already confirmed to step up there.
* dailydrone.org
_ 2006-03-03 14:20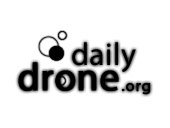 *traik
 opened these days his blog 
dailydrone.org
 where he's going to article on current releases and developments of audible and visual tools for home & live production. Other topics circle around estetics, generatives, arts and patterns. Have a look and link to the site if you like it, Traik is'nt takin' a cent for the work.
Workshop One
_ 2005-11-03 13:28
kids meeting for workshop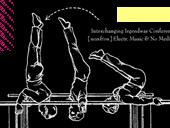 At the 18th of December the kids will meet for the first Wonderwaffe workshop in Baden bei Wien. From 11am till late in the night there is time to play, to discuss, to show, to speak about, to criticise the different appeals to the works everybody brings with him or her. Lost on Arrival and Boris Ural will show their audio tools done with max/msp and pd, fishbitch & kid copy will talk about the "the fairy tale of cue points - a skit" about digital mixing and so are other events on the schedule too. A little catering will await us there. If you're interested and live nearby just come around and get in touch.