Typhoon Tyler Tyson from Tyler Texas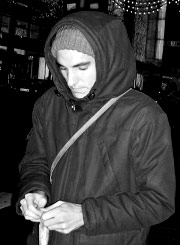 Typhoon Tyler Tyson from Tyler Texas joined the pol.arise.d.kids in it's early stages. His guitar and voice are never getting tired to create epical-sounding tracks and for sure, when there is a guitar involved it's mostly about broken love.

Years before he played together with his mate Christian in the for a certain amount of time incredible Screaming in Silence. A emotionaly very heavy time and so was the music. You can find more about Screaming in Silence by following the link below.
Sounds like
live & dates
Typhoon Tyler Tyson did not perform ever under this name. Find a list of plenty of old gigs under the "Screaming in Silence"-link above.
Contact
contact «nobot» polarisedkids.com